Click here to go back to home page
ST. PETERS PILGRIMS
For your Pilgrimage to:-
Fatima, Knock, Guadalupe, Malta, Rome, Assisi, San Giovanni, Finland with Russia, Turkey, Santiago, Holy Land,
GUADALUPE Mexico City
Nine days (7 hotel nights)
Bed & breakfast - By schedule flights of British Airways
Pilgrimage References GU8


Queen of Mexico, Patron of the Americas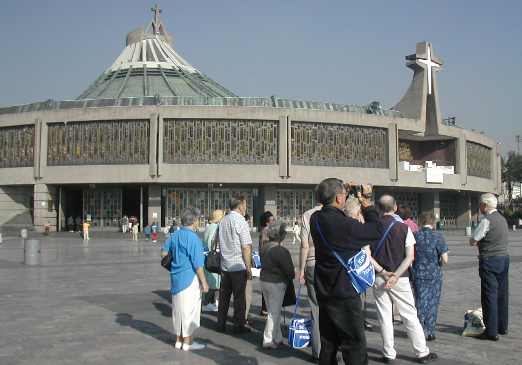 The Basilica of Our Lady of Guadalupe.
HISTORY


In 1531 Our Blessed Lady appeared to a poor Indian, Juan Diego, four times to establish a place where She could give all Her love, compassion, help and protection to Her children. As a sign She produced roses in February & told Juan to take them to the Bishop. He gathered them in his cloak which when unfolded revealed the miraculous picture of Herself now venerated in the new basilica. Many other miracles have taken place.
Ten million Pilgrims visit Guadalupe each year making it the most popular Shrine in the world. Pope John Paul II has made three Pilgrimages and entrusted the cause of life and the unborn children to Her care.

Juan Diego was Canonised in 2002 by Pope John Paul II.

| | |
| --- | --- |
| The Tilma | Saint Juan Diego |
The Aztec Pyramid of the Sun, Teothihuacan

Our departure dates 2005:-

Monday 31st October

to include the celerbrations of

the feast of All Souls

For Parish Groups (25 Pilgrims +) it is possible to arrange a Pilgrimage to Guadalupe at any date and duration to suit your Group
Itinerary & (Optional) Programme
2005
Day 1 - MONDAY - 31st October, 2005
10.35 am Check in at London Heathrow Airport Terminal 4.
12.35 pm British Airways flight BA243 takes off for Mexico City. (Eleven hour flight)
6.25 pm (Local time) Our flight Lands in Mexico where our coach awaits to take us to the Hotel Metropol

Day 2 - TUESDAY - 1st November, The Feast of All Saints
8.00 am Mexican buffet Breakfast in our Hotel. ( Fruits, eggs, sausage, fruit juice, tea & coffee etc.)
9.00 am Our coach departs for the Shrine and Basilica of Guadalupe where where Our Blessed Lady appeared to Saint Juan Diego. We will be guided round the Sanctuaries and celebrate our Opening MASS.
1.00 pm Coach Tour of Mexico City including itís Historic Centre and itís Cathedral. We will stop at a suitable place where we can purchase lunch
5.00 pm We arrive back at our hotel.

Day 3 - WEDNESDAY - The Feast of All Souls -
8.30 am We leave the hotel by coach.
9.15 am Mass at Tulpetiac church which is at the place where Our Blessed lady appeared to Juan Bernandino, (Juan Diegoís uncle) and cured him.
10.30 am Excursion to the Aztec Pyramids of Teotihuacan
2.00 pm A stop will be made where we can purchase lunch
3.30 pm We will visit the Museum of Anthropology
6.30 pm Arrive back at our hotel. (approximately)

Day 4 - THURSDAY
8.30 am We leave for the Ocotlan church at Tlaxcala with comfort stop en-route.
11.00 am Mass at the Shrine
12.15 pm Depart for Puebla
1.45 pm We will set down in the town square where you may choose a restaurant to purchase lunch and enjoy the many shops in this beautiful town.
5.00 pm Our guide will meet us to show us the Cathedral and the two churches.
6.00 pm We leave Puebla to return to Mexico City.
8.00 pm Arrive back at our hotel (approximately)

Day 5 - FRIDAY
8.15 am Our coach departs the hotel for Guadalupe
9.00 am We join the Concelebrated Mass at the Shrine
11.00 am We depart for the floating gardens of Xochimilco
12.00 pm Arrive at Xochimilco and after a ride on a punt, we will have free time in the huge market to shop or eat!
3.15 pm We leave to return to Mexico City
4.30 pm Arrive - rest of the day at leisure

Day 6 - SATURDAY
8.30 am Leave for excursion to Cuernavaca one of the oldest cities of Mexico inhabited since 1200 BC.
10.30 am We visit the Franciscan Cathedral, its beautiful cloister and itís chapels including the outside chapel built for the Aztecs. Some free time to shop.
11.15 am Leave for Taxco
12.45 am We stop at the edge of the town to hear about itís silver mines and see some of itís products after which we take a ten minute walk (or take a mini-bus taxi) into the centre. (The beautiful streets of this ancient town are too narrow for our coach.)
4.00 pm After some free time for lunch and/or shopping we meet at Santa Prisca Church for our Mass
5.00 pm Return to Mexico City
8.00 pm We arrive back at our hotel.

Day 7 - SUNDAY
9.15 am Optional full day excursion to Tula and Tepotzotlan or free day to explore or re-visit Mexico City.
5.30 pm Mass in the San Francisco Church near our hotel.

Day 8 - MONDAY
8.45 am We leave the hotel for our last visit, Mass, and free time at the Shrine of Our Lady of Guadalupe.
1.00 pm Afternoon at leisure.
4.30 pm We depart for Mexico City Airport.
8.40 pm British Airways flight BA242 takes off.

Day - TUESDAY
1.00 pm (lunch time) We land at Heathrow Airport Terminal 4
Hotel Metropol

The hotel Metropole is a four star tourist hotel. It has two comfortable lounge bars, a small shop and a restaurant. All rooms have an en suite toilet and bathroom, TV and outside line telephones.

It is situated in the center of town within walking distance of the Socco, Garabaldi Square, The Opera House and most shops.

Occasionally we may use other hotels of a similar category.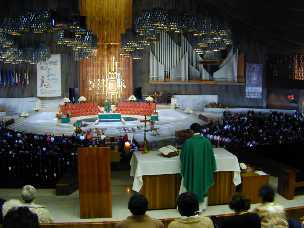 Our Pilgrimage Mass on the
Balcony Chapel of the Basilica
Price: £917

Whatís included. Return flights. All Government & airport taxes. Transfers & coach journeys shown in the itinerary. Bed & breakfast accommodation based on a twin room. Entrance fees to all sites mentioned. An English speaking guide.

Whatís not included. Insurance, Single room supplement £105. Optional excursion on Tuesday. Gratuities for our driver and guide.

Notes:- A buffet style breakfast will be available in our hotel. Most days we will stop for lunch in the centre of the town we are visiting and there will be free time for you to choose where to eat or not. For our evening meal, there is a restaurant in our hotel. A meal can be purchased for between about £8 and £15 or you might like to use one of the many restaurants close by.
Coming from outside the UK? If you would like to make your own arrangements and fly direct to Mexico City and meet us at the airport or hotel there is a discount of £400.00 on these prices.
Aztec Indians perform their traditional ceremonial war dances in the Zocalo
St. Peters Pilgrims, London, England.
Tel: 020 8244 8844 Fax: 020 8697 2466
For your Pilgrimage to:-
Fatima, Knock, Guadalupe, Malta, Rome, Assisi, San Giovanni, Finland with Russia, Turkey, Santiago, Holy Land,